Posts for: July, 2016
By Joel F Bookout DDS, PC
July 20, 2016
For anyone else, having a tooth accidentally knocked out while practicing a dance routine would be a very big deal. But not for Dancing With The Stars contestant Noah Galloway. Galloway, an Iraq War veteran and a double amputee, took a kick to the face from his partner during a recent practice session, which knocked out a front tooth. As his horrified partner looked on, Galloway picked the missing tooth up from the floor, rinsed out his mouth, and quickly assessed his injury. "No big deal," he told a cameraman capturing the scene.
Of course, not everyone would have the training — or the presence of mind — to do what Galloway did in that situation. But if you're facing a serious dental trauma, such as a knocked out tooth, minutes count. Would you know what to do under those circumstances? Here's a basic guide.
If a permanent tooth is completely knocked out of its socket, you need to act quickly. Once the injured person is stable, recover the tooth and gently clean it with water — but avoid grasping it by its roots! Next, if possible, place the tooth back in its socket in the jaw, making sure it is facing the correct way. Hold it in place with a damp cloth or gauze, and rush to the dental office, or to the emergency room if it's after hours or if there appear to be other injuries.
If it isn't possible to put the tooth back, you can place it between the cheek and gum, or in a plastic bag with the patient's saliva, or in the special tooth-preserving liquid found in some first-aid kits. Either way, the sooner medical attention is received, the better the chances that the tooth can be saved.
When a tooth is loosened or displaced but not knocked out, you should receive dental attention within six hours of the accident. In the meantime, you can rinse the mouth with water and take over-the-counter anti-inflammatory medication (such as ibuprofen) to ease pain. A cold pack temporarily applied to the outside of the face can also help relieve discomfort.
When teeth are broken or chipped, you have up to 12 hours to get dental treatment. Follow the guidelines above for pain relief, but don't forget to come in to the office even if the pain isn't severe. Of course, if you experience bleeding that can't be controlled after five minutes, dizziness, loss of consciousness or intense pain, seek emergency medical help right away.
And as for Noah Galloway:Â  In an interview a few days later, he showed off his new smile, with the temporary bridge his dentist provided… and he even continued to dance with the same partner!
If you would like more information about dental trauma, please contact us or schedule an appointment for a consultation. You can learn more in the Dear Doctor magazine articles "Trauma & Nerve Damage to Teeth" and "The Field-Side Guide to Dental Injuries."
By Joel F Bookout DDS, PC
July 05, 2016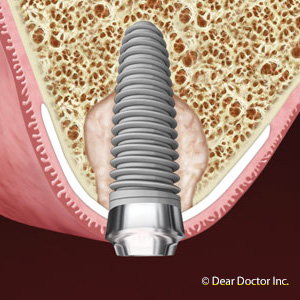 Losing a tooth from disease or accident can be traumatic. The good news, though, is that it can be replaced with a life-like replica that restores your smile. One of the most popular and durable solutions is a dental implant, which replaces not only the root of the tooth but the crown as well.
But there's a possible wrinkle with implants — for accurate placement there must be a sufficient amount of bone around it. This could be a problem if you've been missing the tooth for sometime: without the stimulus provided by a tooth as you chew, older bone cells aren't replaced at an adequate rate. The bone volume gradually diminishes, as up to 25% of its normal width can be lost during the first year after tooth loss. A traumatic injury can damage underlying bone to an even greater extent.
There is a possible solution, but it will require the services of other specialists, particularly a periodontist trained in gum and bone structure. The first step is a complete examination of the mouth to gauge the true extent of any bone loss. While x-rays play a crucial role, a CT scan in particular provides a three-dimensional view of the jaw and more detail on any bone loss.
With a more accurate bone loss picture, we can then set about actually creating new bone through grafting procedures. One such technique is called a ridge augmentation: after opening the gum tissues, we place the bone graft within a barrier membrane to protect it. Over time the bone will grow replacing both the grafting material and membrane structure.
Once we have enough regenerated bone, we can then perform dental implant surgery. There are two options: a "one-stage" procedure in which a temporary crown is placed on the implant immediately after surgery; or a "two-stage" in which we place the gum tissue over the implant to protect it as it heals and bone grows and attaches to it. In cases of pre-surgical bone grafting, it's usually best to go with the two-stage procedure for maximum protection while the bone strengthens around it.
Necessary preparation of the bone for a future dental implant takes time. But the extra effort will pay off with a new smile you'll be proud to display.
If you would like more information on special situations with dental implants, please contact us or schedule an appointment for a consultation.