Posts for: January, 2019
By Joel F Bookout DDS, PC
January 14, 2019
A bright smile is a winning smile, right? So says most Americans at least, according to the American Academy of Cosmetic Dentistry. Did you know that is there a safe way to achieve that perfect look? Dr. Joel Bookout in Chattanooga offers in-office and at-home teeth whitening to qualified patients, and it may be your ticket to a fabulous smile!
Teeth get stains
How does this happen? Time, age, and daily wear-and-tear all thin and discolor tooth enamel, as does tobacco (both cigarette smoke and chewing tobacco), dark foods (blueberries, curry, soy sauce, etc.) and highly colored beverages (coffee, tea, sports drinks). Due to this variety of staining factors, countless people wake up to discover that their smiles looks dull and dingy.
Even the best of oral hygiene habits cannot remove deeply embedded stains and the whitening products available at the pharmacy or supermarket can cause harmful gum sensitivity. What's the solution? Professional teeth whitening, of course!

The Benefits of Professional Teeth Whitening
Patients of Dr. Bookout can take advantage of professional teeth whitening right in his Chattanooga office, or they may select a more gradual at-home treatment. Either way, the result is a smile that is turned brighter by several shades of color—up to eight, in fact!
Besides a totally rejuvenated look, professional teeth whitening offers several benefits such as:
A complete oral examination to ensure your teeth and gums are healthy enough for whitening
Powerful hydrogen peroxide gel which removes organic matter from deep within tooth enamel
Long-lasting results (when you limit staining dietary choices and avoid all forms of tobacco)
Little to no residual gum or tooth sensitivity
Convenient, customized whitening trays which place gel right where it's needed (at-home version)
Relatively low cost when compared to cosmetic dentistry services such as porcelain veneers
Quick treatment time—about one hour in the dental chair for the in-office version (at-home takes about a week of daily applications)
Will whitening work for you?
Most people with healthy smiles achieve great results with professional teeth whitening. A one-on-one consultation with Dr. Joel Bookout will tell you if you're a candidate for this highly sought-after aesthetic service. To arrange your friendly chat and exam with Dr. Bookout, call the office today at (423) 698-3607.
By Joel F Bookout DDS, PC
January 09, 2019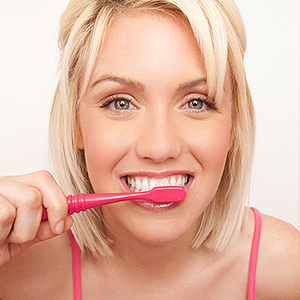 For most of us, brushing and flossing is a routine part of daily life. But has it become such a routine that you may not be getting the most out of your daily regimen?
First, let's be clear about what you're trying to accomplish with these two important hygiene tasks, which is to remove as much accumulated dental plaque as possible. This thin film of bacteria and food particles is the primary cause for both tooth decay and periodontal (gum) disease.
So how can you tell if you're effectively cleaning dental plaque from your teeth? Here are 4 ways to check your brushing and flossing skills.
The tongue test. Move your tongue across the surface of your teeth, especially at the gum line, immediately after brushing and flossing. "Plaque-free" teeth will feel smooth and slick. If you feel any grittiness, though, you may be missing some plaque.
Floss check. For a similar effect after your daily hygiene take a fresh piece of floss and run it up and down your teeth. If the teeth are clean and you are using un-waxed floss, the floss should "squeak" as you move it up and down.
Disclosing agents. You can also occasionally use a plaque disclosing agent. This product contains a solution you apply to your teeth after brushing and flossing that will dye any leftover plaque a specific color. Disclosing agents are handy for uncovering specific areas that require more of your future hygiene attention.  And don't worry—the dye is temporary and will fade quickly.
Dental visits. For the ultimate test, visit your dentist at least twice a year. Not only can dental cleanings remove hard to reach plaque and calculus (hardened tartar), but your dentist or hygienist can evaluate how well you've been doing. Consider it your "final exam" for oral hygiene!
Be sure to also ask your dental provider for tips and training in better brushing and flossing. Becoming more effective at these critical tasks helps ensure you're keeping your teeth and gums free of disease.
If you would like more information on best oral hygiene practices, please contact us or schedule an appointment for a consultation. You can also learn more about this topic by reading the Dear Doctor magazine article "Daily Oral Hygiene: Easy Habits for Maintaining Oral Health."